Massage Therapy
Graceful Touch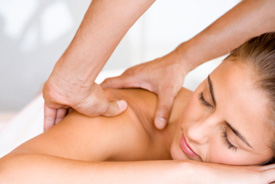 Graceful Touch is pleased to be part of your experience at Black Hills Health and Wellness. Both Irene Siverson and I, Guy Siverson, have made it our goal to make a difference when it comes to the world of massage here in Rapid City.
Apparently, it is working or so our more than 50 five-star reviews on Google for Graceful Touch seem to indicate.
Following is a review of the types of services we provide with an emphasis on our unique approach to Deep Tissue that does not hurt. We call it Muscle Therapy and it is only available from Graceful Touch massage.
Types of Massage Offered
Muscle Therapy
This is our signature massage which is not available elsewhere to our knowledge. Why can we make such a bold statement? Because we developed it.
What do people do when they have sore aching muscles? One answer has been Deep Tissue. However, we believe massage therapy should not hurt. After all, the word is massage. That belief alone does not solve hurting aching muscles that need help. The good news is that Muscle Therapy does or at least that is the word out on the street.
Facial Rejuvenation Cupping
Another massage people rave about from us is facial cupping.
Benefits of facial rejuvenation cupping include but are not limited to:
Blood circulation increased in the head and neck.
The skins ability to absorb nutrients better.
Draining stagnant fluids from your face.
Reduction of edema and puffiness within your face.
Facial lines and wrinkles prevention and reduction.
Swedish Relaxation
We call this our "chill" massage. When it is stress relief that you are after then this is a great option. However, we find that many people coming in for this treatment upgrade to Muscle Therapy when they discover its power without the hurt. The choice is without question yours for the making.
Raindrop Treatment
This healing technique uses pure essential oils and is quite effective as part of Swedish massage. It combines:
Aromatherapy
Relexology
Massage
Moist Heat
Graceful Touch offers this Essential Oil Raindrop Treatment as an upgrade option to our Swedish massage. We use Young Living essential.
Essential oils are just one of our upgrade options for all massages. Heat packs instead of rocks are another as is hydrotherapy with more being added to the mix every day.
Dry Hydrotherapy
While hydrotherapy is not massage. Its inclusion within your treatment enhances the results of massage. This is seen more as an add-on technique like hot packs or essential oils rather than an actual complete treatment in and of itself. At the time of this writing, we are working on making our add-on's more available for each person to opt into on a session by session bases.
Lymph Drainage Massage
If your reason for lymph drainage is more serious in nature then we recommend our friend Heather at Revival Therapy. She is the one that taught us what we know and is an excellent person to learn from.
Even more importantly, she is extremely effective in her approach to lymph draining.
On the other hand, if your lymph issue is more basic in nature then we will be pleased to help.
Not sure which way to go? Give us a call at 605.574.1998. We would be pleased to discuss this with you.
Couples Massage
Want to try any of the ideas above but with someone else at the same time? It is time to find out about our Rapid City couples massage therapy program offered from our home rather than directly at Black Hills Health and Wellness direct.
With our approach, everyone is able to opt into their own preferred treatment approach while enjoying the increase of oxytocin as the massage is received together. Perhaps one would like Swedish and the other Muscle Therapy. Within our couple's massage packages this is perfectly fine. Just let us know at the time of your arrival and we will be pleased to accommodate.
NOTE: Off-site location address will be provided when you set up your appointment either by booking directly on Graceful Touch or giving us a call at 605.574.1998
About Guy Siverson's work:
I've had Massage Therapists work with me in the past. Most offer a nice massage but not as informatively friendly as what I experience from Guy at Graceful Touch. Not only do I find his approach to be quite thorough yet without unnecessary pain: but he also educates me as to why he is doing what he is doing. When it comes to muscle therapy I appreciate a knowledgeable person that I can trust like Guy.
– Susan Johnson
Thanks, Susan!
About Irene Siverson's work:
What an incredible experience!! I called Graceful Touch having never been there before. Irene could hear the desperation in my voice; the pain in my neck was so intense that I was unable to sit or even stand, I was pacing! She arranged for me to come in that day. Irene worked with me for over an hour until I felt relief. Her therapeutic suggestions to use after I got home that night helped even more. Irene has gone out of her way to work me in to her schedule for follow up. Oh my gosh, I can function again! I highly recommend this business!
– Jamie Al-Haj
Thanks, Jamie!
Book Your Massage Now!
If you're serious about pain relief from massage without the need for additional pain being required it is time to book your massage therapy spot with Graceful Touch.
Contact Graceful Touch today or call them at 605-574-1998.
BOOK ONLINE »

---
Massage Therapy Rapid City | Black Hills Health and Wellness Center